LEARN TO LUCID DREAM.

FAST.
LUCID DREAMING FAST TRACK
You will join over 5,831 other members who have joined our online platform to teach themselves the art of dream control since 2013.

The course is broken down into 10-minute lessons each night.
Learn on your tablet or mobile from the comfort of your couch as you relax in the evenings (we suggest a cup of chamomile tea to go with it)!
Here's just a sample of what you'll learn:
Summoning Dream Characters

 - and using your dreaming imagination to play with them.
Lucid Dream Therapy 

- how to help with anxiety, depression and phobias.
Program Dreams in Advance

 - how to seed your desired dreamscape or dream plot.
Seeking Wisdom From Your Subconscious

 - how to communicate with the inner awareness behind your dreams
Effective Visualization

 - to create intricate dreamscapes while you're lying awake in bed.
Dream Chaining 

- how to lucidly re-enter a dream from which you've just awoken.
False Awakenings

 - step-by-step techniques to convert them into lucid dreams.
Self Hypnosis

 - how you can plant the initial seeds of lucidity.
Nightmares

 - how to take control and turn them to lucid dreams.

Deep Relaxation 

- an essential precursor to dream incubation.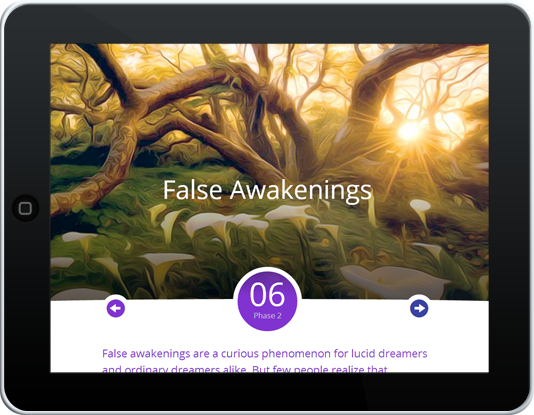 Plus you'll also gain access to our exclusive tools:
Digitally Mastered Hypnosis Audios
 - become hypnotized into a half-sleep state, from which you receive lucid dreaming auto-suggestions.
Brainwave Meditation Sound Waves - 
prepare yourself by
reducing mind chatter and cultivating feelings of inner calm and bliss.
Have lucid dreams 
within 30 days...

 or your money back!
NO RISK GUARANTEE
Order right now with confidence!
If you don't get results, you don't pay. Instant refund, no questions. There's absolutely no-risk in giving it a try!
75% OFF!
Limited Time Only
Zipify Pages is an ecommerce landing page and sales funnel builder that seamlessly integrates with your Shopify store. Now publishing high-converting landing pages and sales funnels is as easy as just a few clicks. After selecting a template, it's easy to customize it to fit your store by using our drag-and-drop editor.