SPECIAL OFFER! 

Try a

free

sample of our new supplement.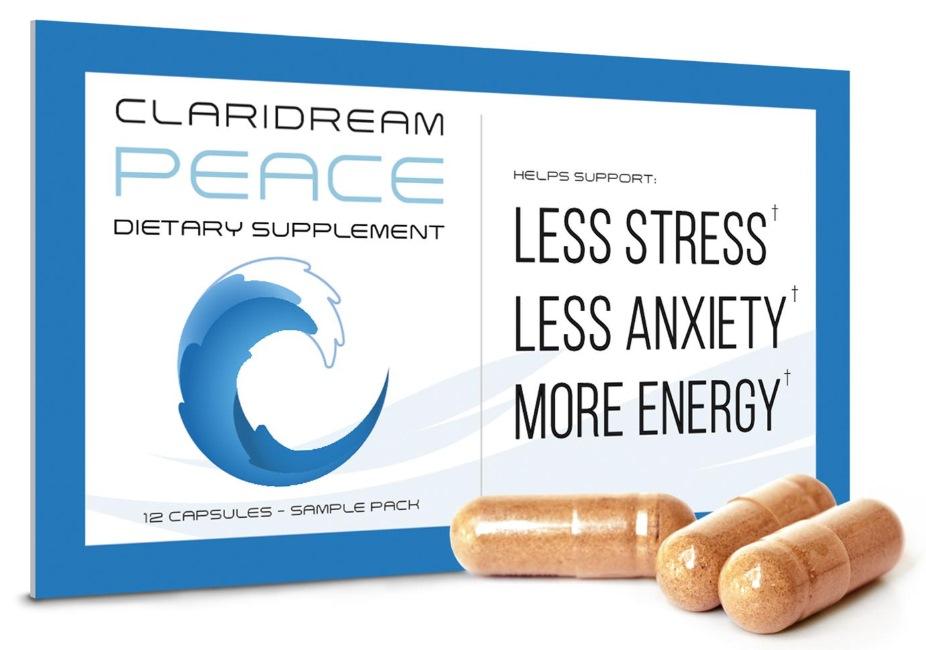 "I feel so much better. Calmer and no more stress"
- Monika C., - Claridream PEACE customer
Claridream PEACE is a natural, plant-based supplement you take with breakfast that helps to reduce stress, lessen anxiety and increase energy levels.   
FREE Samples now in stock. Just pay $4.95 Shipping & Handling!

Claridream PEACE is a collection of root extracts known as adaptogens.
Traditional societies have been benefiting from the power of these wonderful tonics for centuries. And now you can too... without having to worry about quality.
All the ingredients in our product can be traced back to the individual field of origin.

From the Altai Mountains of Siberia to the foothills of Rajasthan, we have spared no expense to bring you the purest and most untainted sources of these traditional adaptogens.
KSM-66
®

 Ashwagandha (5% withanolides)

Grown in the mineral rich soils of South East India, our ashwagandha root is 100% USDA organic and prepared strictly according to traditional Ayuverdic practices.




Studies have shown that it safely and effectively improves an individual's resistance towards stress.






Selenium
One of the essential nutrients and building blocks of life, selenium is a key part of a healthy diet - yet many of us are deficient in it. Supplementation must be at specific levels - not too much, nor too little.
Studies have shown that optimal selenium levels are correlated with positive mood.
I'm really loving it. As a generally anxious over thinker, I have felt extremely chilled out. Things like a friend's birthday party, that would usually send me into a panic attack, have been and gone without even a passing stressful thought. I've also been recommending this to friends as I  feel like I have more energy!
Rebecca S. -
Sydney, Australia
I did notice a significant reduction in my stress levels and a generally calmer mental state once I started taking Claridream Peace. I would certainly recommend it to anyone in a similar situation to my own (naturally anxious but not to the point that I need prescribed medication)
Lewis Colwill-
London, UK
I've found myself having more energy and in a better mood overall. Even after very long days, I don't find myself to be nearly as exhausted as I used to be. I am less reactive to situations and find myself in a stronger mental state, something that is crucial for clear thoughts and decision making.

Nathan 
-  Massachusetts, USA 
We're so confident
you will love

 our product, you can now try it for FREE!
No Strings Attached
Claim your sample while stocks last!
Unlike other supplement companies, we've got nothing to hide! We know you'll come back to buy more, so we're happy to send you a sample free of charge... just cover $4.95 Shipping & Handling.
Claridream PEACE
12 Capsule Sample
 Just cover $4.95 Shipping & Handling
       No obligation, No subscription, No strings
      While Stocks Last - first come first served.